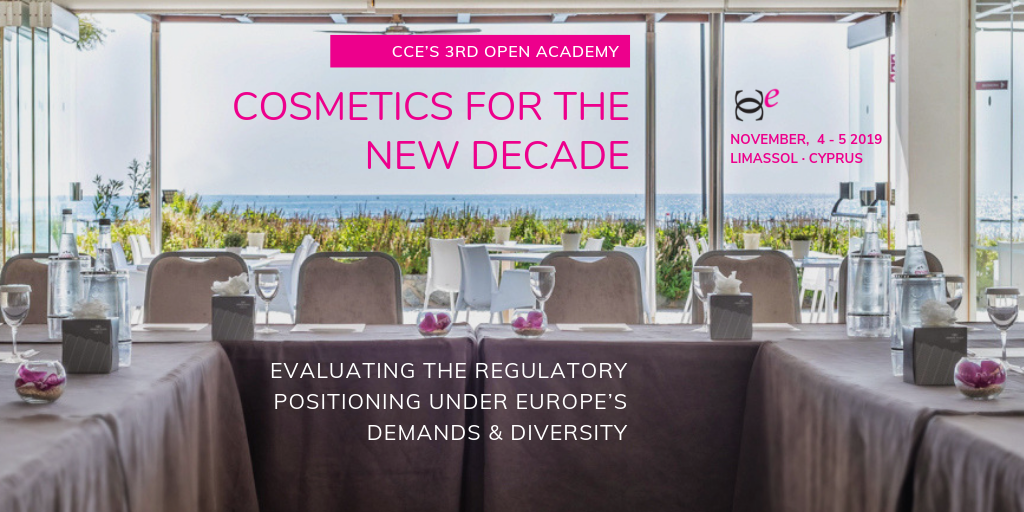 CCE's 3rd Open Academy
COSMETICS FOR THE NEW DECADE
Evaluating the Regulatory Positioning under Europe's Demands & Diversity
November 4-5, 2019
Why attend?
CCE's Open Academy will focus this year on Regulation and Compliance. Three distinct topic area will be addressed:
The EU's Cosmetic Product Regulation and related Issues from Europe's Diversity
CCE & the RWTH Aachen/Germany University Academy – Joint Training Program for Safety Assessment  
The REACH Regulation & its Roadmap for the new Decade
Do not miss the opportunity to be part of this scientific event, taking place in Limassol, Cyprus.
  Venue: 

Crowne Plaza Hotel

· Limassol, Cyprus
Fees:
CCE Members 285 €
Non CCE Members 385 €
21% VAT not included
Registration until November 1st, 2019.
Limited spaces.
Registration on site will be possible upon availability of seats
CCE'S Open Academy 2019 Registration form
Step 1: Fill the registration form and send it
Step 2: If you select "No, I prefer to pay with a credit card / Paypal" in the payment options
Credit card / Paypal Payment for European companies
Credit card / Paypal Payment for non-European companies
SECTION 1: COSMETICS PRODUCT REGULATION
CPR Implementation in the EU Member States – Additional Legal Requirements & Inspection Observations across Europe
Remco Schade, CosTec
Matteo Zanotti Russo, Angel Consult 
Natalia Lavrenova Georgiou, P.N.G.Stidio 
Daniel Ribeiro, Pharmilab 
Robert Fellous, Decernis
Blanca Suarez, Temas
CPR – The Firewall for Cosmetics to the EU Market 

Alvaro Rincon, SPI Americas
Burak Ayan, Ayansan Consult

COFFEE BREAK & Exhibition
"Cosmetics Product Regulation and its Roadmap for the new Decade"
Petra Leroy Cadova, Senior Policy Officer – EU COM-DG GROW, Unit on Health Technology & Cosmetics – via Teleconference
Cooperation for a more unified EU
Panel discussion
LUNCH BREAK  – Buffet and Exhibition
The REACH Regulation and its Roadmap for the new Decade
Laurence Hoffstadt, Scient.Off. Hazard Assessment Unit 4, ECHA – via Teleconference
REACH Specifics for Cosmetics from the Helpdesk
Tasoula Kyprianidou – Leontidou Head of Chemical Section Departm. of Labour Inspection REACH Helpdesk of Cyprus
Aspects for Cosmetics under REACH and Observations from the Consultants' Practice
John van Wegen, Info-Care
Jørgen Hyldgaard, Hygade
Burak Ayan, Ayansan Consult
Annelie Struessmann, Conusbat
Making the Most of Achievements under REACH – Filling Data Gaps through QSAR and Read Across
Chris Waine, Bibra Toxicology Advice & Consulting
SECTION 3: SAFETY ASSESSMENT TRAINING
RWTH Aachen University International Academy and the joint RWTH/CCE Safety Assessment Training Program
Marko Gerstenkorn, RWTH Aachen Academy
CCE's Safety Assessment Standard – Translation into Training Modules
Alla & Gela Selina, GE&AL
Blanca Suarez, Temas AG
Patrick Gonry, S&C Consult
Robert Fellous, Decernis
Daniel Ribeiro, Pharmilab
COFFEE BREAK & EXHIBITION
Introducing the Training Modules on Safety Assessment
Packaging: Uwe Rossow, CCR GmbH
Stability: Natalia Lavrenova, P.N.G.Stidio
Claims: Alex van der Burgh, SkinConsult
Undesirable Effects Celia Campos, CU Assessors
New Generation Safety Assessments – what Changes will we have to expect?
Rob Taalman, Cosmetics Europe
Safety Assessment Training for a world-wide Audience 
Panel discussion
LUNCH BREAK  – Buffet and Exhibition
Hotel Room Reservation Promo Booking
Venue: Crowne Plaza Hotel, Limassol Cyprus
Room Types & Rates:
Single or Double Select City View Room – €140 per night, per room
Single or Double Deluxe Sea View Room – €160 per night, per room
*Incl. Breakfast, Wi-Fi, free parking, complimentary bottled water, coffee / tea machine