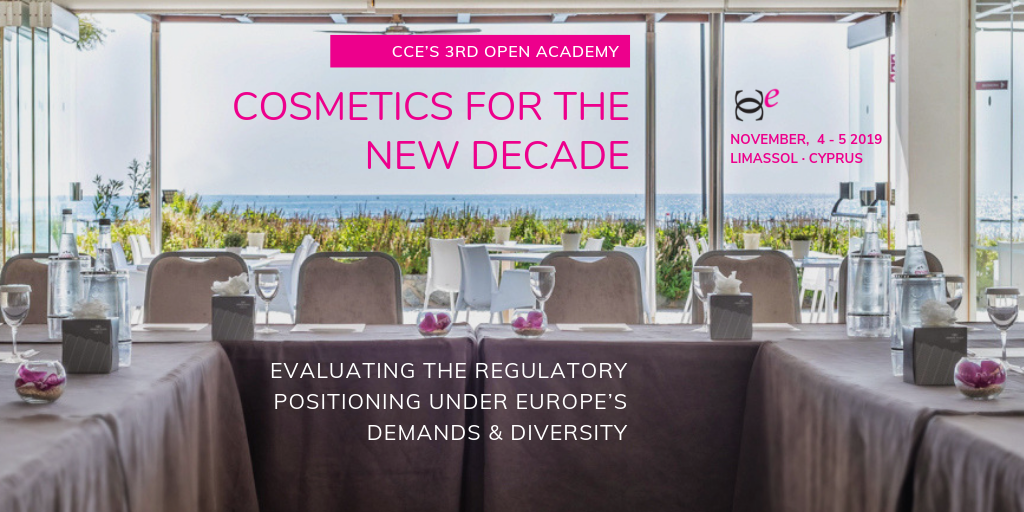 CCE's 3rd Open Academy
COSMETICS FOR THE NEW DECADE
Evaluating the Regulatory Positioning under Europe's Demands & Diversity
November 4-5, 2019
Why attend?
CCE's Open Academy will focus this year on Regulation and Compliance – Three distinct topic area will be addressed:
The EU's Cosmetic Product Regulation and related Issues from Europe's Diversity
The REACH Regulation & its Roadmap for the new Decade
The Joint Training Program for Safety Assessment of CCE & RWTH Aachen/Germany University
The Agenda includes speakers from the EU Commission, ECHA, and the Cyprus Ministry of Health  – Download the agenda in PDF format
Do not miss the opportunity to be part of this scientific event, taking place in Limassol, Cyprus.
  Venue: 

Crowne Plaza Hotel

· Limassol, Cyprus
Fees:
CCE Members / Partner association 285 €
Non CCE Members  385 €
21% VAT not included
Registration until November 1st, 2019.
Limited spaces.
Registration on site will be possible upon availability of seats
Opening
Moderators: Steven L. Hanft, SG CCE
Annelie Struessmann, President CCE
Opening Welcome Speech
Constantinos Ioannou – Minister of Health of Cyprus
The REACH Regulation and its Roadmap for the new Decade
Laurence Hoffstadt, Scientific Officer, Hazard Assessment, ECHA – via Teleconference
REACH Specifics for Cosmetics from the Helpdesk
Tasoula Kyprianidou – Leontidou Head of Chemical Section Department of Labour Inspection. REACH Helpdesk of Cyprus
COFFEE BREAK & Exhibition
Aspects for Cosmetics under REACH and Observations from the Consultants' Practice
John van Wegen, Info-Care
Jørgen Hyldgaard, Hygade
Burak Ayan, Ayansan Consult
Annelie Struessmann, Conusbat
Profiting from Achievements under REACH – Filling Data Gaps through QSAR and Read Across
Uwe Rossow, CCR GmbH
LUNCH BREAK  – Buffet and Exhibition
SECTION 2: SAFETY ASSESSMENT TRAINING
CCE Safety Assessment Guidance and Training
Annelie Struessmann, President CCE
RWTH Aachen University International Academy and the joint RWTH/CCE Safety Assessment Training Program
Marko Gerstenkorn – RWTH Aachen Academy
CCE's Safety Assessment  Standard – Translation into Training Modules
The Cosmetics Product Regulation and the PIF – Alla & Gela Selina, GE&AL
Principles of Safety Assessment – Blanca Suarez, Temas AG
CPSR – Patrick Gonry, S&C Consult
Exposure – Robert Fellous, Decernis 
Animal Testing/GMP – Daniel Ribeiro, Pharmilab
COFFEE BREAK & EXHIBITION
Introducing the Training Modules on Safety Assessment
Packaging – Uwe Rossow, CCR GmbH
Stability – Natalia Lavrenova, P.N.G.Stidio
Claims – Alex van der Burgh, SkinConsult
Undesirable Effects – Celia Campos, CU Assessors
Safety Assessment Training for a world-wide Audience 
Panel discussion
Reflections on Day 1
Moderator: Steven L. Hanft, SG CCE
SECTION 3: COSMETICS PRODUCT REGULATION
New Generation Safety Assessments – what Changes will we have to expect?
Rob Taalman, Cosmetics Europe
CCE's Safety Assessment Standard – Translation into Training Modules
Alla & Gela Selina, GE&AL
Blanca Suarez, Temas AG
Patrick Gonry, S&C Consult
Robert Fellous, Decernis
Daniel Ribeiro, Pharmilab
COFFEE BREAK & EXHIBITION
CPR – The Firewall for Cosmetics to the EU Market 

Blanca Suarez, Temas
Alvaro Rincon, SPI Americas
Burak Ayan, Ayansan Consult

"Cosmetics Product Regulation and its Roadmap for the new Decade"
Petra Leroy Cadova, Senior Policy Officer – EU COM-DG GROW, Unit on Health Technology & Cosmetics – via Teleconference
Cooperation for a more unified EU
Panel discussion